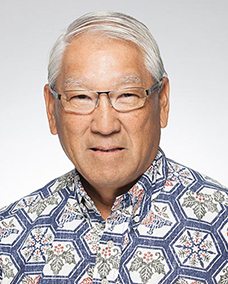 Education
Bachelor of Science, Civil Engineering
University of Hawaii
Registration
Professional Engineer, Civil Engineering, Hawaii, #2652-C
With SSFM Since 1998
Vice President,
Island of Hawaii
Hugh Ono enjoyed a long and distinguished career as a senior public official. His many roles included serving as the head of state Department of Transportation Highways Division and, before that, as District Engineer for the Island of Hawaii. Hugh also spent several years as Director of the Department of Public Works for the island of Hawaii. He thought he retired in 1998, but that only lasted six months.
He was drawn back to work by his enthusiastic and energetic nature and the opportunity to help a small engineering company named SSFM undergo a dynamic transformation into a sophisticated and diverse organization. Hugh jumped at the chance to find the people and clients SSFM needed to establish an office on the island of Hawaii—its first on one of the neighbor islands. As that office became established, Hugh went on to help the company open offices on the islands of Maui and Kauai.
Hugh's background as a public official has given him an important perspective: "After spending my career on that side, I am knowledgeable in what clients are looking for and how to treat them." Many of the long-standing relationships SSFM continues to enjoy with clients like the County of Hawaii and the Hawaii Electric Light Company are rooted in that perspective.
Hugh sums up his career and his role at SSFM quite simply—"I'm happy to have been part of the growth of this wonderful company. It's been a great ride."